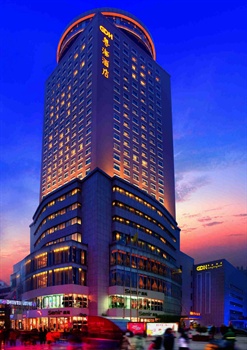 Zhengzhou Yuehai hotel is located in Erqi square, the bustling central business district of the city, close to Dehua pedestrian street, Dennis David City, Vientiane City, etc. with a hundred years of history, the railway station, subway line 1, line 3 entrance, airport bus line 3 are close at hand, with superior geographical location and convenient transportation. The hotel building is 99 meters high, with 28 floors of the main building, 1 floor underground and 5 floors of the attached building. The design is novel and the style is unique. The hotel has various styles, elegant and comfortable rooms, all equipped with high-quality room facilities, so that guests can fully experience the luxury and comfort of the hotel.
The hotel has complete catering facilities, including Chinese restaurant, revolving western restaurant, etc Enjoy the beautiful scenery of Zhengzhou.
The hotel has seven magnificent, elegant and exquisite meeting rooms, with an area ranging from 50 m2 to 600 m2. With an area of 608 square meters, the Regent hall can accommodate 330 people to hold large-scale banquets at the same time, and can be set into theater style, classroom style, T-shaped desk and other conference forms according to the needs of guests; the meeting room with an area of 240 square meters in the Shenzhen Hall of the Hotel is suitable for holding various government affairs, business meetings, lectures and other large-scale activities. In addition, the hotel also has a variety of conference venues such as forum, business negotiation and teaching, which can meet the needs of different guests.